So PVC, maybe a few years ago it just seemed like a piece of plastic but today it's an edgy and essential part of the sports luxe trend. Nevertheless, it does have it's pretty obvious downfall; a lot of the time it is completely see through which can be a bit of a problem unless you are going for a Miley Cyrus stunt. Black PVC can also make you look like your part of the Batman movies and is often more catwoman than catwalk.
However it does look pretty awesome when you get it right so here are some PVC summer essentials that I've spotted...
This amazing Hermes bag is not in stock anymore but you can still get them on Ebay for around £200. The
French means 'Souvenir/memory of the 1997 Hermes exhibition' and then says 'A trip to Wonderland'. If you are worried about exposing the entire contents of your bag to the world then you could always wrap your possessions in a scarf first.
I saw this Topshop mac in the shop yesterday and have to say that it looks like the perfect festival essential and a lot better than those plastic ponchos we all buy. It looks really cool and will keep you dry whilst everyone can still see your summery outfit underneath.
Here is a PVC Missguided skirt that is (thankfully) not see through! It still captures the edgy vibe because of it's texture but the pastel blue is reallyyy cute.
This Wildfox makeup bag is really fun because of the bright pink colour and I'm sure that it will add some style to your everyday routine. It's very beachy as well so perfect for summer.
You've heard of the little brown bag but have you heard of the little clear bag? I love it already Bloomingdale's.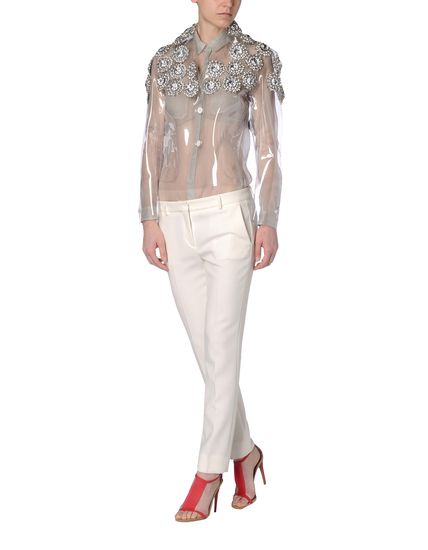 If you fancy splashing out then there's this Burberry Prorsum PVC jacket. It's only for the brave but Cara Delevingne did look awesome in something similar at Burberry SS14.
Last but not least are these two pairs of AMAZING Sophia Webster shoes. They're so quirky and amazing for summer, a must have.